Meet the trail blazers who run WOWride
Willa Minnes:
In 2010, a few women were standing at the Whistler Fondo finish line, waiting for their partners to arrive. We decided that we should cross that finish line as well. Most of us did not even own a bike! We had young kids and we had to start somewhere in our quest to cross the line.
What I realized very quickly was not the thrill of crossing the finish line, but the journey it took us on to get there. Many riders helped me in my pursuit of learning to road ride, and that is what drives me to give back to the sport and give women the opportunity to ride, learn, and have fun together. Many rides later, it is the journey each time I get on my bike that keeps me coming back. That is why I ride. BTW, I did not cross the finish line on my 1st fondo…
Deb Intas:
I started riding in 2010 thanks to my very dear friend Cathy Paterson. Over coffee, I asked "I want to do something physically challenging, any suggestions?" She replied, "Why don't you ride up to Whistler" and told me about the RBC Whistler fondo. And so my love affair with biking started. I have now ridden over a dozen fondos and charity rides with more planned. I have achieved things on my bike that I never thought I could and that gives me a strong sense of accomplishment, pride, and strength. That is why I ride. Plus, it truly makes my soul sing.
I love exploring the world on my bike at a pace where I can truly see and experience more than in a car. I love the way I feel after a ride, with that buzz lasting long after the ride is over. And I love the friendships that I have formed while riding endless joyous hours on my bike. It was our bikes that brought us together and it is our bikes that keep us connected. I am really excited about connecting our vibrant female road cyclist community here in Vancouver.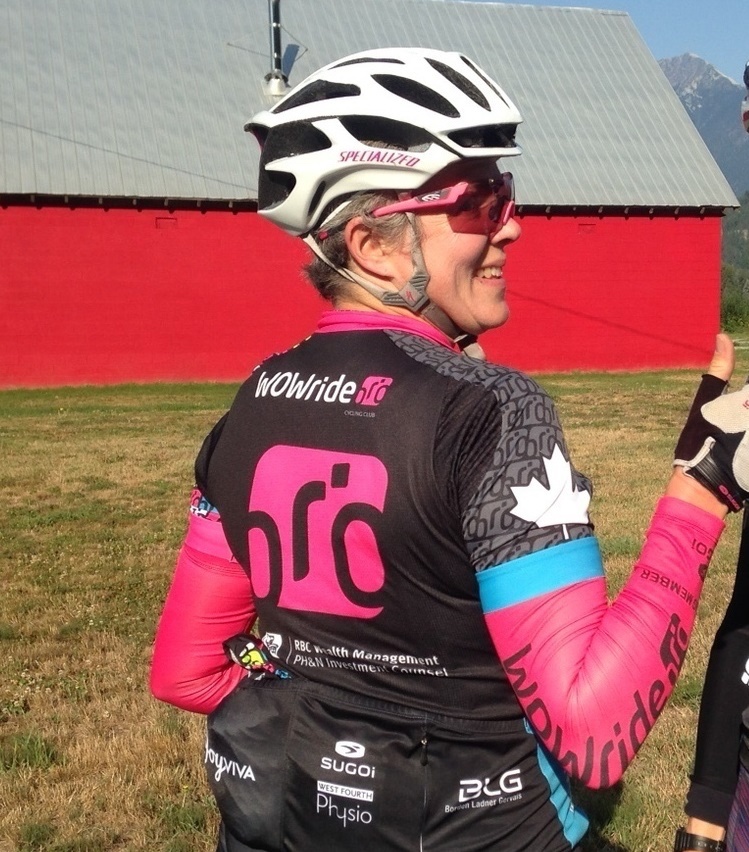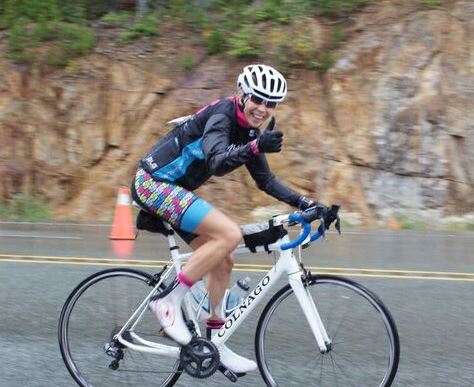 How it all started…
Right from the start, we wanted to create more than just a cycling club, but a strong movement to bring women together to ride together. We wanted our club to be fun, unique, energetic, supportive, strong, philanthropic, and incredible.
It all started with one ride together, then another ride with more women and so on and so on… WOWride Cycling Club was born.
The more women we talked to about this idea, the more excited we got as everyone said.."WOW, what a great idea".
We found the core things women cyclists wanted were to:
meet like minded female cyclists
go on organized rides
be safe and have fun
learn to be better cyclists
Our name really hit a chord with us as it truly captures how you feel when you ride and how you feel when you meet amazing women…and WOW stands for women on wheels …bonus!!
Here's what's important to us
We are stronger together by ability, speed, and experience.
We don't do it unless it's fun, safe and meaningful.
We make it easy for active women to ride together on scheduled rides.
We facilitate connections with awesome women.
We give members, no matter what level, the opportunity to learn to be better stronger cyclists.
We do not want to be intimidating.
 We help the community and help each other achieve greatness on our bikes.
WOWride raised $17,00 for mental health in 2021, has helped lead charity rides and has donated to Trips for Kids Vancouver and young female athlete development.
WOWride wants to have the best looking most incredible and comfortable kit on the road. Thanks Jakroo, our Official Apparel Supplier.
We would love to ride with you. We are #strongertogether.
We'd love for you to join us on the road for some awesome rides, new friends, and epic laughs.
Email us if you want to find out more or: