Ride with us!
Here's the scoop on our rides
WOWride Cycling Club aims to offer a variety of rides every week. 
3 Weekly group rides: lead by our Let's Ride (formerly NCCP Level 1), CPR & First Aid certified cycling coaches, a.k.a. our Domestiques, from April through September.
Sunday rides: start time: 8:30am in spring / 7:30am in summer.
Thursday West Side and North Shore non-guided rides: April, May and June: start time 6:00pm (new start location).
Tuesday Stanley Park daytime rides: April, May, June and September: start time 9:30am.
Sunday destinations will vary: Iona, Steveston, River Road, Cypress, Seymour, Horseshoe Bay, Deep Cove, SFU, Whistler, Fraser Valley, etc.  See the events calendar on the website for more details.
Our rides will have North Shore or West Side meeting points.
Destination rides –  Self supported ride for intermediate and advanced riders only.
Weather & Drop-In Policies
Wet weather policy: Rides will be cancelled if it is significantly raining one hour before our scheduled start. Check for updates on our website calendar or Facebook page.
Drop-In Policy: COVID UPDATE: NO DROP INS IN THIS SEASON DUE TO COVID 19. Usually, you are welcome to drop-in on the 1st scheduled Tuesday OR Sunday ride in April and May. YOU NEED TO BE INSURED to join us for a ride. You must either hold a Cycling BC Licence OR sign the 2019-Cycling-BC-Waiver-Final and our own WOWride forms, and you can join us for a ride. Please NO Tri-bars. 
PLEASE READ AND FOLLOW OUR COVID 19 GUIDELINES
Covid Safety Plan as of March 29, 2021
Please stay home and do not ride if you are experiencing the following:
Coughing or sneezing
Runny nose or sore throat
Fatigue
Fever
Chills
Shortness of breath
Loss of sense of smell
If you are experiencing the above symptoms and have not been tested for COVID-19, please call 8-1-1 for guidance. If you have had extensive contact with individuals outside your immediate family, pod, unit, or have been in contact with someone with COVID-19 symptoms please consider a thorough and honest pre-screening for symptoms of COVID-19 and stay at home. Members must confirm they have not travelled outside British Columbia in the previous 14 days. ​ ​//bc.thrive.health/covid19/en
If these symptoms begin during an organized cycling activity, you must leave immediately and contact your local public health office for recommendations.​ You must also inform your club.
In addition, the following individuals should not participate in organized cycling activities:
 Any person who receives a diagnosis of COVID-19. Individuals must comply with the current mandated self-isolation policy as per the BC Ministry of Health (​www.gov.bc.ca​).
Any person who has been told to self-isolate.
Any person who lives in a home or has been in close contact with someone with
symptoms of COVID-19.
Any person who has arrived in British Columbia from outside of Canada within the
last 14 days as they are mandated to self-isolate and monitor for symptoms for 14
days upon their arrival.
All participants must practice recommended social/physical distancing by keeping three
meters (10 feet) away from one another at all times.
Covid Safety Plan(based on Cycling BC (CBC) guidelines and reviewed by CBC & WOW Board):
Adhere to the Cycling BC Back to Sport Plan, viaSport's Guidelines and PHO's social 
distancing Phase 2 protocols. Current as of March 29, 2021.
Each member will be required to sign a Covid declaration form that will be administered
through CCN. Co-Founders will ensure that every participant is compliant.
If protocol guidelines and/or safety plans are not followed you will be asked to leave the
ride.
Members must sign up for each ride 3 days before the riding date. Saturday sign up for
Tuesday rides. Thursday sign up for Sunday ride. Monday sign up for Thursday ride (via
CCN).
WOWride will not accept any guest drop-ins.
Riders to take note of group, time & route.
Ride group size will preferably be 6 riders but will allow max of 10 (CBC guidelines).
All rides will be staggered 10 mins apart. Riders must arrive close to the ride time – max
5 mins before the ride time. Each member must arrive unaccompanied.
Designated positions with chalk will be placed on the sidewalk for each rider to stand.
"StrongerTogether 10 feet apart" (see Photo below)
Each leader will check in their riders. Information held with CCN in case of COVID
outbreak.
Rides and stops proceed with social distancing. End of ride stop permitted if social
distancing is available and outside. (see link below)
Each leader will be given gloves, mask, and the ride safety plan.
Each member will be required to bring hand sanitizer and mask. Gloves are optional.
We will ask members to minimize the need to use the public washroom and use hand
sanitizer upon arriving and leaving.
We will remind members the following:

Washing hands with soap and water covering all surfaces of hands for 20-30 seconds. Rinse well.
Cover your mouth and nose with a disposable tissue or the crease of your elbow when you sneeze or cough. ​No farmers blows.
Do not touch your face, eyes, nose, or mouth with unwashed hands.
Practice enhanced hygiene, including regular cleaning of equipment.
Be self-sufficient on the bike – leave prepared for nutrition, hydration
and mechanicals.
Do not share equipment, food, drinks, water bottles, etc.
Stop to feed, do not eat on the bike.
Do not shake hands, embrace or high five.
Do not loiter before or after organized activities.
At all times, be 10 feet apart

If there is a mechanical: the rider will be responsible to fix. If the rider requires assistance, there is no obligation for the domestique to help but if a member wants to volunteer, they will be required to sanitize their hands before helping. The rider with the mechanical must be 10 feet away while someone else fixes the bike. After the mechanical is fixed, all parties involved must sanitize their hands. The rider will be responsible to find their own way home if the mechanical is not fixed.
If there is an accident, the leader will attend to the person with gloves and mask on.
Feedback is always welcomed after every ride; via email. [email protected]
Outbreak plan will follow the Cycling BC Guidelines:

Symptoms – if a rider is experiencing​ symptoms during an organized cycling activity, they must leave immediately and contact the local public health office for recommendations. They must also inform the club via email.

[email protected]

​ or txt the trail blazers. Deb Intas and or Willa Kriebel
Any individual experiencing any symptoms of COVID-19 (fever, cough, sore throat, runny nose, headache, or shortness of breath) must inform their coaches or club personnel (via phone, text, or email) immediately.
Any individual who has been told to self-isolate due to having come in contact with someone with symptoms of COVID-19 are not permitted to attend an organized activity and must inform their club and coach (via phone, text, or email) immediately.
If the affected individual had contact with any other athletes or coaches in the past 14 days, the coach or club personnel should inform other potentially affected individuals (taking care to keep the affected athlete's identity and medical information private) and ask those who have any symptoms to self-isolate at home.
If a club member or unattached coach is diagnosed with COVID-19, all in-person training must be discontinued for a period of 14 days and their riding group members will be notified by the club. The guidance will be taken from the PHO's for others involved. Riders will not be able to come back to riding until they are cleared by PHOs protocols and by the Co-Founders.
As we emerge from this global wake up call, let us do it purposefully and with empowerment. Let's not allow this to pass without reflection and let us instead go in a direction that allows growth within our community and spirited athleticism.
Thank you for making yourself aware of the above protocols and guidelines.
#StrongerTogether-10 feet apart
Willa & Deb, Trail Blazers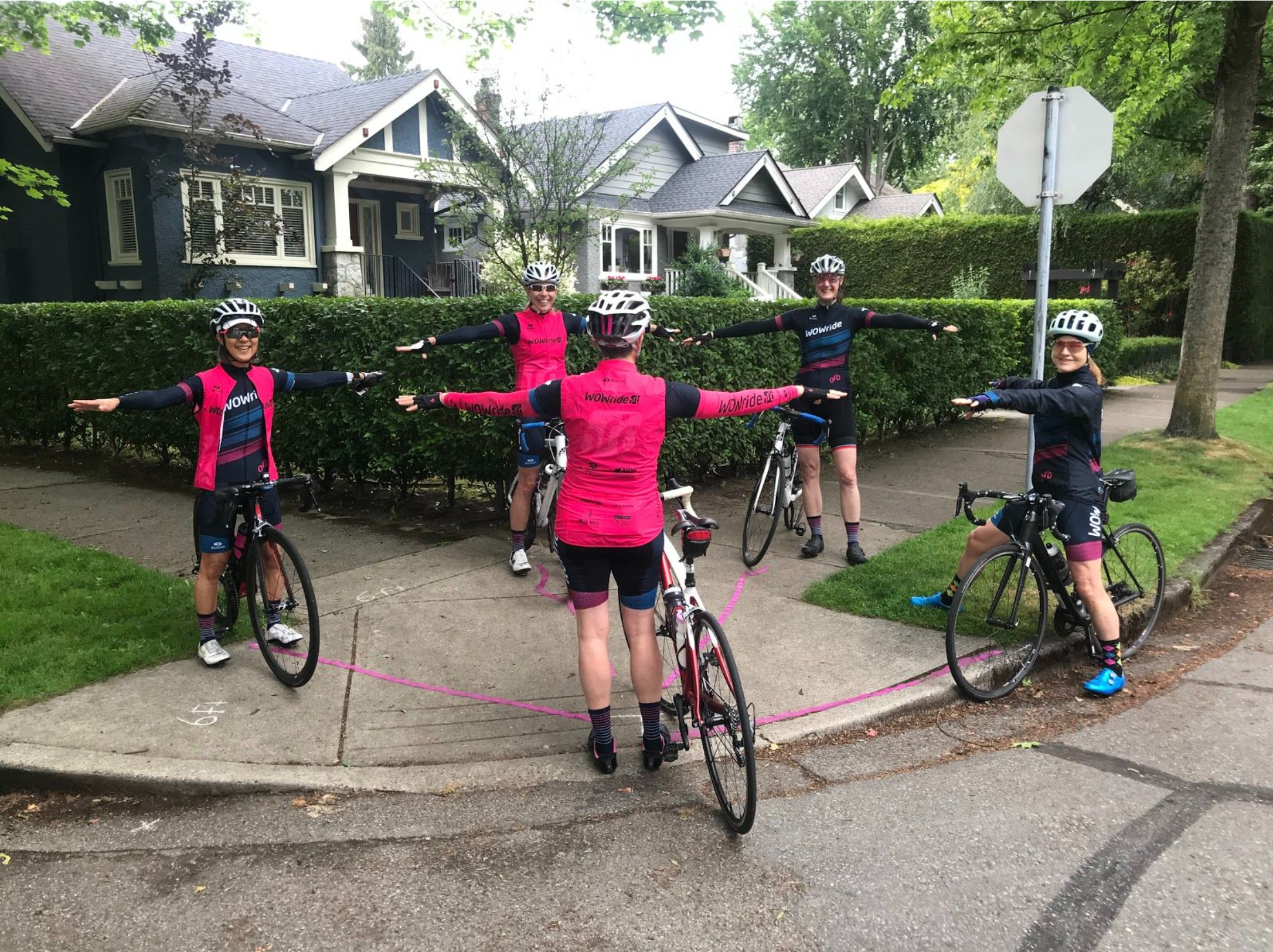 Our riders can choose from three speed categories on group rides.
23-25 Km/hour:   You are looking to build your confidence and cycling skills while becoming stronger and faster as the season progresses.  If you are unsure of your speed, come on out for a ride and see if WOWride is for you or contact us prior to registering.
Rides will start at 25km and gradually increase over the season.
25-27 Km/hour:  You are a skilled rider who wants to improve your cycling and group riding skills.  We will help you prepare for those "bucket-list goals".
Weekend rides will start at 50km and will increase in distance over the season.
27+ Km/hour:  You are a confident experienced rider who is looking for a challenge. You want longer rides, steeper climbs, and a faster pace.  You are also looking to improve and connect with other experienced riders.
Ride distances will gradually increase over the season and weekend rides will be 60-120km.
Our Goal is to Ride Safely with the Expectation of the Following:
Be able to signal with right/left hand while maintaining control of your bike.
Ride in a straight line and not deviate while shoulder checking right or left.
Ride clipped in.
If we feel a member is not riding safely or able to keep up with the 23 km/hour group, as per our society bylaw 2.3(b), we reserve the right to cancel the member's membership.
How to Ride in a Group Pace Line
Single file rotating pace lines will be used during our rides as this will help us all ride faster.
A pace line is a string of riders who alternate turns riding at the front, pulling, then resting by re-entering the line and drafting in the slip stream of the other riders. Here's how it works, for a safe ride for all.
Generally, the lead rider will pull off to the left and slowly decrease speed and re enter at the back of the pace line.  The new leader should maintain the speed of the group.
Do not over exert yourself at the front.  Front rider will pull for 30 seconds to 1 minute.
Ride a comfortable distance behind the wheel in front of you.  That may be 2 inches or 2 feet.  No half-wheeling (crossing tires with the bike in front of you).
Look beyond the rider directly in front of you to see what is ahead of you on the road.
On an uphill, maintain your effort, not the speed.
On a downhill, do not slam on the brakes.  Slowly feather your brakes.  Allow a little more room between the rider in front of you to allow for reaction time on down hills.
Riders need to ride straight and smooth.  Keep a steady pace and make no sudden movements.
If a gap does open, slowly accelerate to close it.  If a rider opens a gap and cannot close it due to fatigue, then slowly accelerate around her to close the gap.
If you brush bars with another rider, do not panic. Stay relaxed and you will regain your balance.
If you have a flat tire or mechanical issue, let others know and slowly slide out of the pace line and stop on the side of the road.
If you feel the group is traveling too fast, let a Domestique know.  Try to hang out in the middle of the pack.
If this all sounds daunting, don't worry… practice makes perfect and you will be able to do this in your sleep in no time.